The San Antonio Youth Film Contest, Can't Beat Love, is pleased to announce the topic for the 2014-2015 contest year:
Topic: Dealing with Peer Pressure
Films will examine how peer pressure can affect decision-making and lead to destructive actions relating to dating,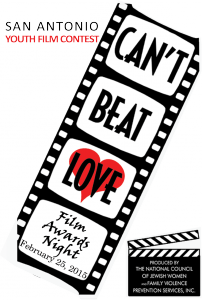 substance abuse, bullying, cyberbullying or other negative behavior. Entries should also present ways students can successfully confront peer pressure to enable better decisions and outcomes.
Research and Statistics
Peer Pressure with Drug and Alcohol Use
Drug and alcohol use is one of the biggest concerns when it comes to peer pressure. Even if parents have taught their teenagers about the dangers of drinking and using drugs, peer pressure may influence them to take part in these activities. In fact:
According to The Canadian Lung Association, "my friends smoke" and "I thought it was cool" are two of the main reasons those between the ages of 12 and 17 start smoking.
The Canadian Lung Association also found that 70 percent of teens who smoke have friends who smoke or started smoking because of peer pressure.
According to the Underage Research Drinking Initiative, two-thirds of 10th graders and two-fifths of 8th graders have tried alcohol.
The Monitoring the Future Survey from the same initiative found that approximately 30 percent of 8th graders have used illicit drugs.
The survey also made three conclusions about the effect of peer pressure on drug and alcohol use:

Teens with friends who do drugs and drink alcohol are more likely to do the same.
Teens who do drugs and drink alcohol are more likely to convince their friends to do it too.
Teens who do drugs and drink alcohol are more likely to seek out other teens who do the same.
Peer Pressure and Sex
As teenagers try to find their identity and acceptable roles, they also face pressure to give in to their new sexual desires. A study from the Kaiser Family Foundation found that:
One-third of teenage males feel pressure from their friends to have sex.
23 percent of females feel pressure from their friends to have sex.
44 percent of teens want more information on how to handle pressure to have sex and how to know when they are ready to have sex.
46 percent of parents have not discussed with their teens how to handle pressure to have sex.
Peer Pressure and Driving
As part of a survey from the insurance company Allstate, 89 percent of teenagers said that their parents had the most influence over their driving habits. However, that same survey showed that when it comes to driving, peers still have a strong influence. According to the survey:
44 percent of teens drive better without friends in the car.
56 percent said they talk on their cell phones while driving.
13 percent said they text while driving.
Peer Pressure and Self-Harm or Suicide
Sometimes peer pressure can lead to teens harming themselves through cutting or other dangerous fads or committing suicide.
The Mayo Clinic says that teens with friends who self-injure are more likely to self-injure as well.
A study from the Yale School of Medicine found that bullying often leads to suicidal thoughts in kids and teens.
Deadline for submission is January 23, 2015
Submissions open to all full-time San Antonio-area high school students. All entrants must be currently enrolled in the high school they are representing.  Please refer to the Contest Rules page on the web site.